ABOUT ROXBURY
Over the river and through THE WOODS, you'll find...
Roxbury | History

About 90 minutes from Manhattan, Incorporated in 1796, Roxbury is located in the beautiful northwest corner known as the Litchfield Hills. Spread over 26-square miles, this rural town of 2,320 offers historic sites unsurpassed architecture as well as rural ambience.
In the western part of town the Shepaug River flows in a southerly direction, cutting a narrow valley through hills on either side. The Town Green holds the town's smallest cemetery and granite memorial to Revolutionary War hero and Roxbury native, Seth Warner. Warner was Captain of the local regiment of the Green Mountain Boys, formed to resist New York authority over Vermont and he was also a founder of Vermont. He was a hero often overshadowed by his more flamboyant Roxbury-born cousins and Green Mountain comrades-in-arms, Ethan Allen and Remember Baker.
Roxbury is proud of its farming and mining heritage, its architecture and barns, its Historic District and its friendly, community-spirited residents. The Town has a reputation for providing excellent services to its residents. In addition various cultural, educational and recreational opportunities are provided by public and private organizations. Today, the town is a haven for those in the know.
Why we LOVE Roxbury
It's the tranquility here that we truly love. For decades, the town of Roxbury has become a haven for some of America's greatest writers and actors, as well as, second-home buyers & weekend retreaters coming in from the city. It continues to attract Manhattan intellectuals, Wall Streeters, young professionals, artists & actors; all drawn to its quiet charm and New England reserve and a place to get away from the hectic week left behind. Despite its beauty and proximity to New York, Roxbury has remained somewhat of a secret & maintains a population of around only 2,300 residents. Professionals that do discover this picturesque New England town feel like they've come home! In addition, there are hundreds upon hundreds of acres of preserved land and trails throughout the town which themselves are an attraction! Check out the Roxbury Land Trust's Trail map!

Notable Roxbury Residents
The rural countryside has attracted some of the greatest American writers including William Styron, Arthur Miller, and Gay Talese. Other well-known residents, past and present, include the late actors Walter Matthau and Richard Widmark, the late playwright Tom Cole and the late sculptor Alexander Calder. Still residing in Roxbury are movie stars Dustin Hoffman, movie critic Rex Reed, musical theater composer Stephen Sondheim, Sex in the City's Candace Bushnell, and soap opera actress Elizabeth Hubbard. All three stars of the hit TV series "Rescue Me", Jerry Adler, Michael Lombardi, and Dennis Leary were simultaneously residents of Roxbury, among many others.
And we certainly can't forget about Roxbury's most infamous past resident- Marilyn Monroe! (see BBC's recent article below)


An easy 80 Miles from Manhattan!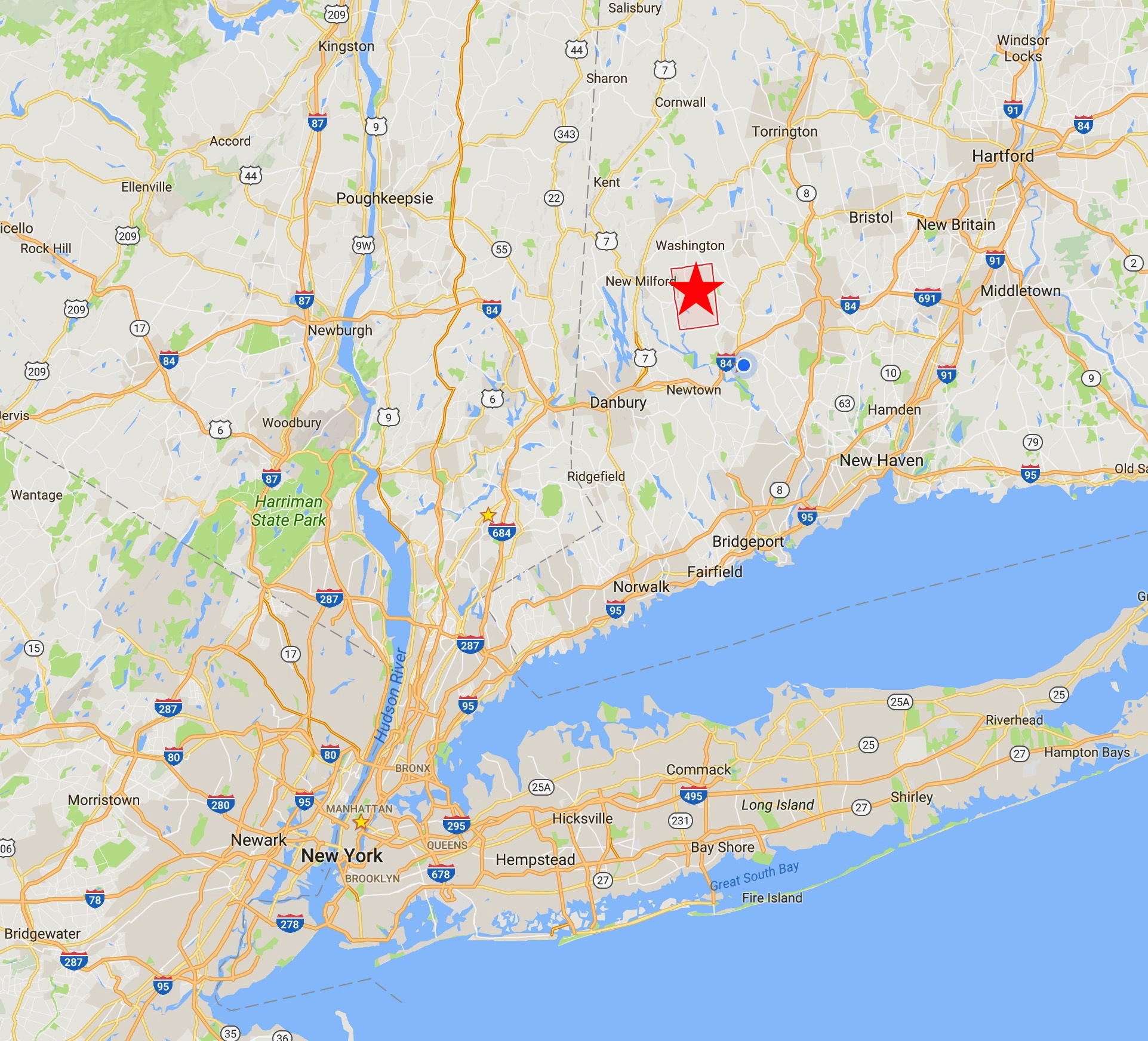 ROXBURY CT – recent press mentions
Roxbury Country Roads Making it Feel Like Home for Those Passing Through
https://www.courant.com/news/connecticut/hc-marteka-battle-swamp-raven-rock-preserves-0709-20170707-story.html
Heart of class: Blondie buys charming Connecticut estate
The town that couldn't contain Marilyn Monroe (BBC) With little more than a clerk's office, a small market and gas station, tiny Roxbury, Connecticut was an unlikely home for one of the world's biggest movie stars.
HAVENS | Roxbury, Conn.; Where Weekenders Find Ways to Stick Around (New York Times)
Roxbury a quiet place for famous authors to savor life out of the spotlight (CT Newstimes)
If you're thinking of living in Roxbury CT (New York Times)
On a more personal note!
Roxbury is a super sweet town. People are friendly and welcoming and the natural unspoiled beauty is second to none. There are literally miles of gravel town roads and untouched stone walls, and the place looks like it is straight out of a story book! The Roxbury Land trust has over 3,675 acres conserved as open space under the Trust's stewardship with wonderful places to explore, hike and enjoy. They do an amazing job!
In the mornings, you have to go to the Roxbury Market, where Wayne the owner, has literally transformed the place into a world-class gourmet food market showcasing the best of the local products including arts and crafts, books (we have a lot of authors) cheeses, meats, milks and yogurt (think Arethusa Farms!) and so much more. In addition, his bacon egg and cheese sandwich is to die for! In the afternoon, you must hit Mamies for lunch (BYOB), and then take a nap! -- Yes, it's that good! -- and coming soon, Raj is particularly excited for the opening of the Mine Hill Distillery for some locally sourced distilled spirits -- !
Roxbury is a few miles from Washington's famous Mayflower Inn, and the GW Tavern, and to the east a few miles is CT's antique trail in Woodbury, with restaurants such as Carol Peck's Good News Cafe, Market Place, John's Cafe and our favorite, Mix Prime Steakhouse. And for an endless array of food and shopping, to the west is New Milford.
Overall, at only 80 miles from Manhattan, you will not find a more tranquil and lovely spot to spend a weekend or to be a full-time resident. We have lived in Southbury, CT since 2000 and are excited to be building a home for ourselves at The Woods!
Jill and Raj!

ROXBURY CT | Notable Residents


Meryl Streep, Actor
A.R. Gurney, playwright
Ann Leary, author
Candace Bushnell, author
Daniel Day-Lewis, actor
Denis Leary, actor
Dustin Hoffman, actor
Michael Bacon, musician
Rebecca Miller, writer, director
Stephen Sondheim, composer
Debbie Harry, Musician
Graydon Carter, Editor, Vanity Fair
Frederick Ecklund, Bravo's Million Dollar Listing NYC
Gary Komarin, Artist
Charlie Cox, Actor
ROXBURY LAND TRAILS:
THE RED STAR DESIGNATES THE LOCATION OF OUR PROPERTY ADJACENT TO THE BATTLE SWAMP BROOK AND PRESERVE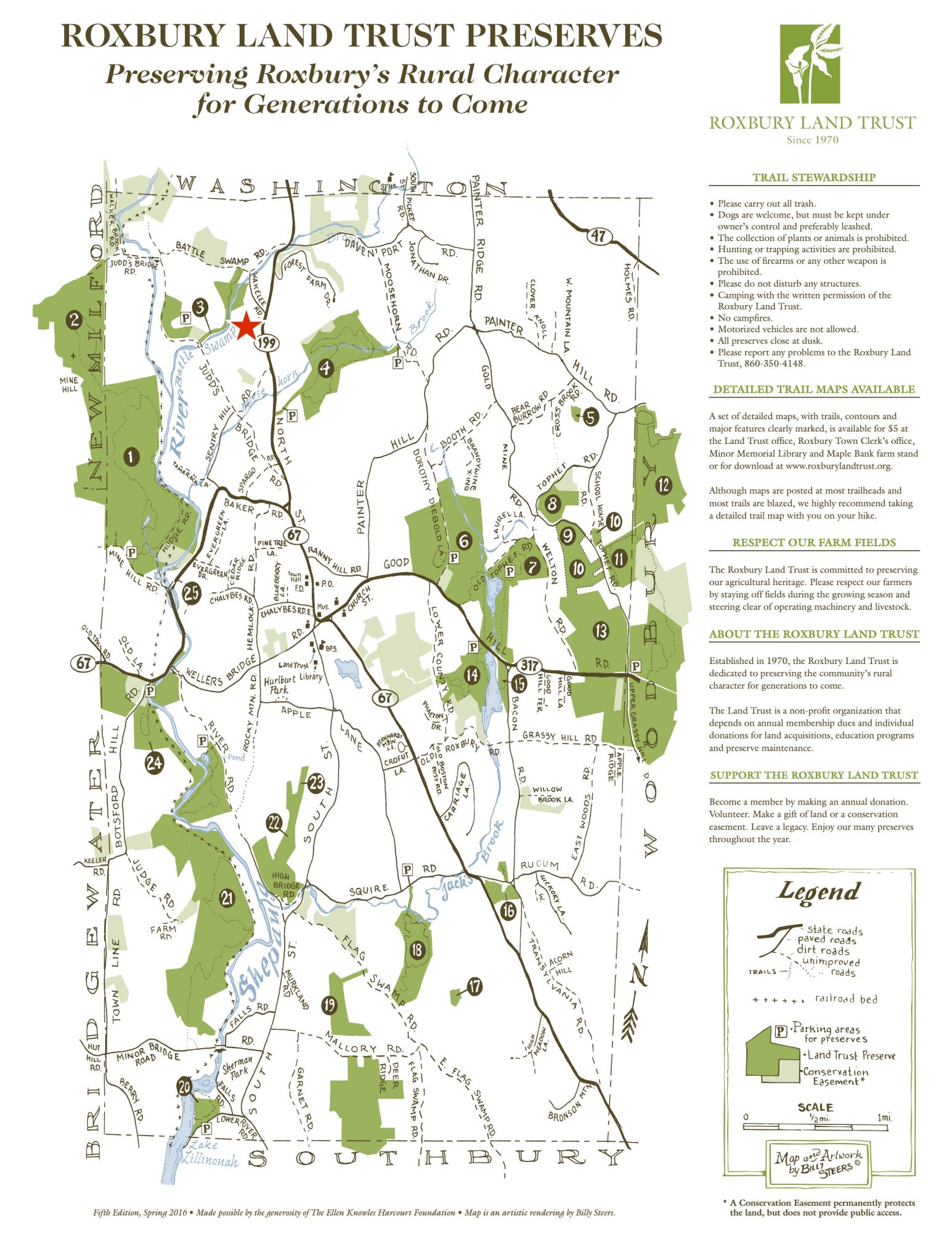 ALSO, YOU CAN LEARN MORE ABOUT THE ROXBURY LAND TRUST AND DOWNLOAD INDIVIDUAL TRAIL MAPS HERE: http://www.roxburylandtrust.org/